How to Download Free Books from Obooko
We have designed the Obooko website to make it easy to navigate and use. You may however be missing some of the helpful features we've built in to make your visits more enjoyable. These instructions are primarily for desktop and laptop screen sizes but they apply equally to tablets and phones, which will differ slightly in layout. Read everything from the top or scroll down to any of the points that are of particular interest.
Let's start with navigation:
Main Navigation Menu
If you are viewing on a larger screen like a desktop or laptop, this is the bar running across the top of the page (below the grey header) with the Obooko logo to the left. On mobile phones and tablets this will be accessed via the MENU (the three-lines icon on the right). Selecting this will display the navigation menu.
When you first visit the site you will see six main-menu items:
Free Fiction Books
Free Factual Books
Info & Search
Log in
Register
Blog
Note: Log in and Register change to "My Account" whenever you log in.
Selecting a main-menu item will reveal a dropdown sub-menu containing relevant categories or topics. Making a selection from this list will take you directly to that page.
Logging in
Once registered, you may use the Log in link in the main menu or via the pop-up log in form, which will be displayed if you click a book download link. All you need to enter is the email address you used to register, along with your password. Members who have been with us for over three years have the option to use their username from the previous Obooko system. Should you forget your password simply select FORGOT PASSWORD? on the log in form, which will take you to a page where you can enter your email address for our system to send you a password reset link via email.
Search
You will find the search box at the top of the list in the Info & Search dropdown menu. On mobile phones and tablets this will be accessed via the MENU. Obooko is primarily a BROWSING site and as such we recommend viewing books via the categories: a bit like browsing the shelves of a bookstore (you ask the assistant only when you need to!)
We have over 3000 legally licensed books for free distribution on Obooko and have always complied with international Copyright laws, which means we NEVER host pirated or plagiarised books. With this in mind it will be fruitless to search for Harry Potter, Twilight, Fifty Shades or any other titles you know are published for retail in bookstores only. We don't break laws and we encourage you to stay clear of sites that do.
Book Categories
Page Numbering: we have 38 book categories for you to browse: 16 fiction and 22 non-fiction. Each category page displays 20 books. A category may have many pages, so make sure you use the page number boxes, which appear at the top and foot of each page, to move forward or backward until you find the books you are interested in. Select a book to view its download page.
Page Layout Views: you will also find a dropdown menu button that will give you a choice of five book listing options: Latest Books First, Earlier Books First, EPUB Books Only, KINDLE Books Only. Plus a choice of two page layouts: Grid View and List View.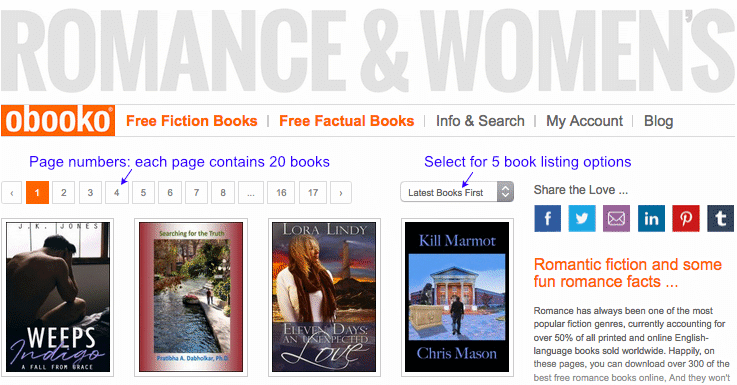 Download pages
Initially, you will be able to download three free books online in pdf , epub or kindle, without having to register. During this period the Star Rating and Author Feedback features are disabled: these are for Registered users only. To enable Unlimited Downloads (for ever!) and qualify to award Star Ratings and give Feedback direct to Authors just go ahead and register ... it's simple and Free!
A book's download page contains all the information you'll need to help you decide if it's for you (although all books are free so you may as well download and check it out anyway!) In particular, there are three interactive parts that will be of interest:
1. Star rating
Once you have read a book, the author will be absolutely delighted if you would return to the book's download page and award a star-rating. To do this, hover (your cursor or finger) over the row of stars and make a choice from 1 to 5. Simply click or select that star to award your rating. As a guide, this is how we have traditionally rated free books:
1 Star = Poor
2 Stars = Needs more work
3 Stars = Average
4 Stars = Good
5 Stars = Excellent
2. Author Feedback form
If you enjoyed a book please let the author know by using the Send Feedback button to access the author feedback form. Authors love to hear from their readers, it's what makes writing worthwhile. You may also use the form to ask questions or discuss any particular aspects of the book. This is a Private Messaging system between you and the author, we do not have access to these conversations. Important: sending offensive comments, sales messages, spam or misusing the sytem in any way will result in your membership being terminated.
3. The Download box
Once you have read the book synopsis, scroll down the page to locate the orange and grey download box with the heading 'DOWNLOAD YOUR EBOOK HERE'. Use the dropdown menu to select the ebook format you require from PDF, EPUB and KINDLE. Your chosen file will download automatically to your device as fast as your connection allows, usually straight into your downloads folder. Some books may have only one or two of these formats; this is usually because the author has restricted file types available for free distribution.
4. More Books by the Author
The majority of authors publishing on Obooko have more than one book available, usually as part of a series. Always check below the download box for a set of clickable covers. Our most prolific author, Peter C Byrnes, has over 60 free books ready for you to download! So, make sure you scroll down as far as you can to ensure you don't miss any books by your favourite authors.
Should you have any questions please get in touch via the contact form and we'll get back to you as soon as we can. Happy reading!
Photo: Artem Podrez @ Pexels